The easiest program for managing stores and stores in the Arab world
easy to use
Close control of your store and accounts
Various reports to support the decision
Excellent and fast technical support
What is your business activity?
Spare parts, electrical appliances, household appliances, communications, mobiles and computers, toys, sanitary ware, supplies … Easy program that fits most inventory-dependent activities, customer and supplier accounts
easy to use
No more long, expensive training hours, we developed an easy program to suit the simple user, its design is not academic, but it was designed the way we work and think, and you can learn it easily through its use, in addition to some short instructional videos to help you get started quickly and easily
Cost without risk
Start downloading and using the program now for free, until you make a decision to rely on it confidently and based on its work experience, you can choose between a monthly or annual subscription or buying the program, or start with a monthly or annual subscription and then buy the program later, the decision is always in your hands without risking your money
The easiest program in the Arab world
Sahl program was designed from the first day to be the easiest program to use in the Arab world, no matter how humble the employees' skills in using the computer, they will enjoy easy use within minutes of use.
In Sahel, there are no complications, there are no thousands of screens and reports, just what you need.
Design your bill yourself
Choose from several different cool sales invoice designs, quotation, cashier receipt, receipt, and more.
Also, you can modify the shape of the invoice as you wish using Microsoft Excel, put your company's logo, its data, change its shape, size and lines, then save the file, and the program will use the new design in printing the invoices.
Calculate your earnings accurately
One of the most important strengths of Easy Program is to accurately calculate the average cost of the item and track its change with every purchase, sale, inventory or settlement. That is why you can know the profitability of each bill, and even know the profitability of each item within this bill accurately.
The most important is the wonderful sales analysis report that calculates total sales and their profits for items, customers, delegates, stores, months, or even days, with a comparison between them in percentages.
Accounts of clients and suppliers
With one click of the mouse, you can view a report of all customer and supplier accounts and their current balances, and know the total credit and debit balances, choose one of these accounts so that the program shows you a detailed account statement for all its movement of sales, purchases, expenses and receipts
What is the value of the goods in your warehouse currently?
It is very important that you know the value of the goods available in a specific store or all stores at any time. This number may exceed your expectations. Easy program that calculates items costs with extreme accuracy. The warehouse goods report shows you the stock and its total value now and at any previous date as well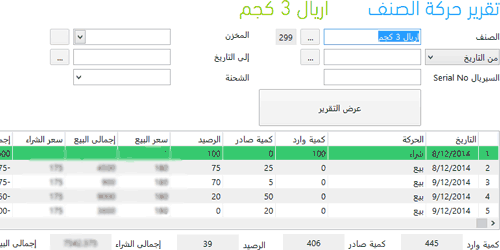 The movement of any item in detail
The item movement report displays all the item movements such as purchases, sales, inventory, and transfer between stores and others. With an explanation of the changes that occur in the average item cost with each transaction. And compare the item's sale price with its cost in the sales invoices
Do not work alone
Easy multi-user program. Designed to keep your data private. Each user has powers that do not exceed them. For example, some users can know the cost of the item, and others cannot. You can prevent a user from modifying and deleting invoices, just entering them, you can prevent a user from using the program except to enter sales invoices only, and anything else he cannot
Check the safe yourself
When you click the treasury in the main screen, the program will inform you of the current treasury balance, open the drawer and review the safe yourself and make sure that there are no errors or manipulation easily. The program also shows you the treasury balance at the beginning of the day and until now. You can view the treasury movement in any period of sales, purchases, disbursements and receipts in detail
Save your expenses by monitoring and analyzing them
One of the most important tools of the program is the "Expense Analysis" report. It analyzes your expenses for you. It shows you the size of the salaries you pay, the size of office expenses, the size of the electricity bills, and other expenses of your project, which seem small and scattered, but by collecting and analyzing them for each period of time you can pay attention to the expenses that actually affect your project and that you need to rationalize, or know the period in which these increase Expenditures, prepare for them, and understand the reasons for their high. Much of the influencing information you can understand from this report, and directly reflected in the rationalization and better management of your expenses.
You have more than one branch or plan for it?
Easy multi-store program, and you can enter the inventory of any store easily, or transfer goods from one store to another. Do you have fast internet (1Mbps speed or more)? Enjoy linking the branches directly and work together as one unit, and follow the movement of each branch from anywhere. This is the future.
Use barcode to speed up work
Easy program designed to work with barcode labels, you can print and paste them from the program, and read them with a "barcode scanner" quickly and without errors.
When buying a new product and upon inserting it, the program asks you "Do you want to print the barcode labels for this product?" If you answered yes, it will print labels with the new items information to be attached to it immediately. You will never have to waste time printing barcode labels again.
Your data is safe
Every time you close the program, the program will ask you this question: "Do you want to make a backup copy of your data?" . We always advise the answer yes, because in seconds the program will make a copy of your data in a separate file and save it in a folder you specify for backup copies. Also, another copy can be saved in a flash memory. Now you are safe, Windows problems or hardware malfunctions will not lose your data, simply you can restore it, and continue as if nothing had happened.
Invoices archive at your command
On the bills screen, you have everything you need to search for invoices. You can view sales invoices during the current month or sales invoices for a specific customer, purchase invoices for a specific resource, or exchange vouchers for a specific resource, or search for a specific invoice with its number, even if you remember a note that you have recorded in the invoice, you can search with this note.
Three lists of selling prices
The program supports up to three sales price lists. For example retail price, wholesale price, wholesale price. However, you can change their names as appropriate for your project. During selling, you can easily choose the price you want to sell at.
You have a touch screen?
If you have a touch screen, you can use your fingers to select items, record and print invoices without the need for a keyboard or mouse.
Always use the latest version
One of the most important advantages of Sahl program is that it updates itself to the latest version of the Internet without any interference from you, and this allows you to take advantage of new jobs and reports constantly. We constantly develop an easy program with our clients. Take advantage of the latest additions to develop your business, and send your suggestions to us for study and development.