What This Product Does
TP-LINK's TL-WR843N Wireless AP/Client Router is specially designed for Wireless ISP users, enabling wireless access to the Internet in areas with no wired ISP infrastructure (such as cable or xDSL). With up to 300Mbps wireless speed, it is ideal for interruption sensitive applications like HD video streaming. TL-WR843N can also serve as a normal wireless router, just like TL-WR841N does. What's more, it supports Passive Power over Ethernet, convenient for deployment in areas without power outlets, such as a backyard or an attic.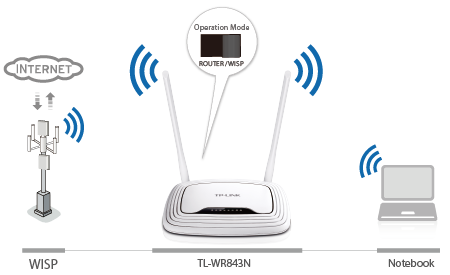 Client Router Mode – WISP Client
TP-LINK's TL-WR843N is designed to be set in Client Router mode as its default wireless mode to support a WISP connection. When it works as a WISP client device to access the Internet, local computers can connect to TL-WR843N via wireless or cables.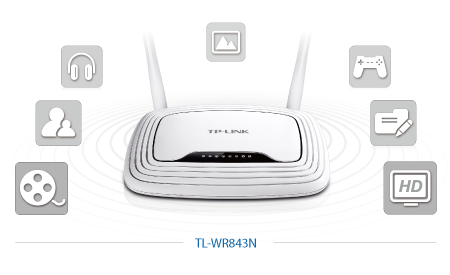 300Mbps Wireless N – Speed & Range
With transmission rates up to 300Mbps, users can run bandwidth intensive devices including VoIP, HD streaming, or online gaming, without the lag. Using its powerful N technologies, the router is also able to mitigate data loss over long distances and through obstacles.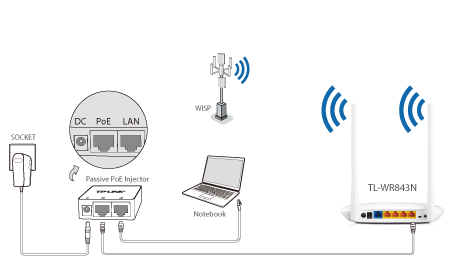 Passive PoE Support – Flexible Deployment
The TL-WR843N is equipped with a RJ-45 WAN port, which is designed to support Passive PoE. For users that require a better WISP signal and need to place the device at location without power outlets, such as an attic or garage, the TL-WR843N will fit the bill flawlessly with up to 30 meters Power over Ethernet capability. Users can easily have the most flexible deployment and don't have to be tethered to any outlets!

WPS
Instantly setup WiFi connections simply by pressing the "WPS" button.